Managing an Energy Company's
Data Center Migration
Customized solution tracks progress
and provides audit trail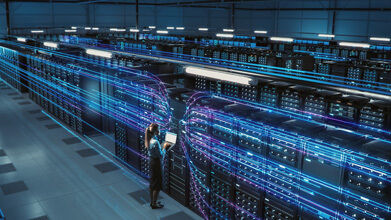 Background
A major energy company had plans to migrate several hundred applications over to a new data center. The proposed workflow had each application move through development and test environments before being deployed to production. A review board had the final say in approving technical documentation and test results before the transition was considered ​'complete'.
Challenges
Applications were scheduled for migration to a new data center in phases. It was necessary to track the progress of these applications thoroughly, as many of them relied on each other to function properly. Management was required to conduct a comprehensive review and provide approval for each application as it progressed through the process, ensuring thoroughness and accuracy.
Strategy
RTTS' plan was to develop a customized solution using a team collaboration tool to track progress and provide an audit trail for review board approvals. The goal was to have a centralized location where all users could view, update and follow applications as they moved through the migration process.
Solution
A team collaboration tool, IBM Rational Team Concert (RTC), with features that help organizations collaborate on their projects in a simple and efficient manner was used to facilitate the review process. Our engineers were able to take a standard RTC project and tailor it to match the client's predefined workflow and requirements.
Work items were one of the main elements used for tracking progress and coordinating tasks between users (i.e., Stories, Defects, Tasks). The solution gave users the ability to customize these items, and even create new ones, in order to integrate with an organization's workflow.
Working through the RTC Eclipse client interface, our engineers created a custom migration work item to hold all the necessary information for each individual application as it moved through the different environments. Some of the custom attributes that were added include: description fields, parent workstreams, application owners, technical points of contact, and business owners. This allowed all members of the organization to search within the tool for pertinent information regarding each application.
An ​'Approvals' tab was also added to this work item specifically for board members to record their approvals. Application owners were able to attach all required documentation to the work item, which was then viewed by each of the board members. This customization and workflow allowed for a seamless experience between both parties.
All users had to adhere to the defined workflow, so by configuring the roles and permissions within the solution we were able to ensure that application leads could not bypass the review board and release to the production environment. We carefully constructed permissions to prevent a change in status unless all board members provided approval. This gave management confidence that there would be no oversight in any of the applications that were using this system.
As part of the migration process, developers needed to make technical services requests to different teams throughout the organization. This process took place so that the developers could build out their applications in each environment. We customized a ​'Task' work item to allow these requests to easily be forwarded to the proper groups. These Tasks could then be linked back to the ​'Migration' work item to allow for complete visibility into the ongoing work for an application. We were able to further streamline the process by implementing custom JavaScript code to pre-populate the description field based on the type of Task requested.
RTC offers the ability to display project information via dashboard widgets. These widgets can display charts and lists of work items so that, at a glance, users can see the overall progress being made for the project. It also serves as a place where users can go to find out about their pending tasks. We created ​'My Work' widgets to display outstanding work items based on a user's role. Agendas for the review boards were automatically populated under the ​'Review Board' dashboard (Previously, the review boards would communicate via email and review documentation from a shared drive). The creation of the ​'Review Board' dashboard allowed for two-click navigation to all necessary information. Having everything that was required for approval in one place helped to greatly improve the efficiency of the review process.
If there was a need to discuss any conflicts with the applications documentation or schedule it was easily managed by using the comments section. Much of the back-and-forth dialogue took up an excessive amount of time during the Review Board meetings. Teams now have these discussions virtually, prior to the meetings, in the customized solution. Review Board meeting times were reduced from hours to minutes.
After the project area was configured and released to users, RTTS was able to mentor several client resources so that they could step into the administrator role. Providing guidance and documentation on how to manage the projects going forward was an important step in setting them up for success in using the tool. We left the client capable of applying the framework used in the migration project to other projects that may need customization and tracking in the future.
Benefits
Streamlined the review process by allowing Board members ​

"

two-click" navigation to their review material via dashboard widgets.
Reduced the amount of time spent in Review Board meetings from hours to minutes. All preliminary discussions and documentation review now take place within the tool.
Enabled visibility into the progress of individual tasks associated with each application as well as the overall project status.
Provided an audit trail for all activity associated with the applications to be migrated.
Mentored client resources in both using and administering the tool so that they can grow as new projects arise.