Automated Functional Testing
Reduce risk while managing your team's limited resources.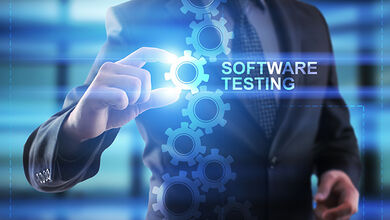 Why You Need It
Automated functional testing (AFT) focuses on your core business processes and complex applications. The tests verify that your applications work as expected, and that invalid actions and data are corrected.
How Will It Help My Business?
Automated functional testing will help you execute more successful projects given less time and a lower budget. Here are some key benefits:
Speed + accuracy — Automated tools allow more applications to be tested within a shorter time span. They also provide greater coverage for faster issue detection. AFT tools can run at any time of the day; they never tire, get bored, take shortcuts, or make assumptions.
Flexibility — Applications become more complex as they grow. With AFT tools, tests can be reused over time and added onto as needed. Engineers can also manage artifacts for less re-work and more agility.
Repeatability — Automation suites provide a formal, repeatable process for verifying functionality.
Defect discovery — When sites do not function correctly or perform poorly, customers may leave and never come back. What is the cost to your business? Performing correct and systematic automated testing uncovers defects early and assures a quality experience for your customers.
Expert Testers + Free Testing Tool = Success!
RTTS is the premier services firm in the data quality and testing field and boasts Team Leads and QA Engineers who have successfully implemented projects at 700+ companies since 1996.
RTTS' Services Group can provide you with comprehensive planning and implementation solutions for testing your applications and architecture. And RTTS provides functional automation solutions for FREE!!!
RTTS' Skilled Functional Testers
all RTTS Engineers are highly skilled in testers
all have Computer Science degrees and are full-time W‑2 employees of RTTS (no contractors)
all have gone through a rigorous and intensive 300-hour training program
all have years of experience implementing QA processes and testing tools on complex architectures in many verticals
Our Team can provide you with any of the following services:
Full outsourcing of your ETL testing needs, including end-to-end planning and execution
Staff augmentation with RTTS engineers providing you with additional testers
Train your team in test strategy and in a test automation tool to make sure you can test confidently
We offer both on-site testing and testing in the Cloud (from our New York offices).
Sizing Your Project – For Free
RTTS can analyze your project quickly and provide you with an estimate that outlines the business case, technical architecture, tasks, timelines and help you plan for it accordingly. This service is provided to you by RTTS — FREE! See more ⇒