Testing-as-a-Service
Hardware, Software & Services included in one
price and delivered by our team of experts - meeting your Agile, DevOps, & CI/CD needs.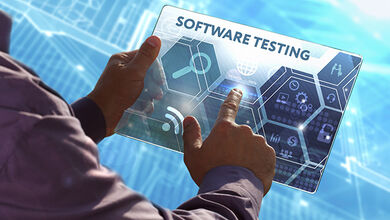 Application Development and Delivery Teams need much higher levels of automation in order to cope with the growing demand for quality at speed. The solution? Testing Automation Services.
Your Challenge
Your team is developing an application or architecture that will provide a competitive advantage for your firm.
You realize that your team's core skills do not revolve around software quality & automated testing, so you decide that you need to outsource this effort.
Procuring software licenses and the related hardware for testing and can cause timing issues due to resource constraints, legal entanglement and other reasons.
As business technology teams increasingly look to Agile, CI/CD and DevOps, the traditional manual testing services model no longer meets the needs of application development and delivery (AD&D) teams.
There are plenty of firms to choose from that outsource, but you have heard many stories of failed outsourcing projects. Then who do you choose? We think RTTS is the right choice.
Our Solution – Testing-As-A-Service (TaaS)
RTTS is the premier pure-play QA & testing organization that focuses primarily on test automation – for all the obvious benefits it brings our clients. We launched our initial Testing-as-a-Service program in 2003, offering free testing software and hardware and leveraging our local automation engineers for work on client projects from the company's multiple U.S. offices.
Now RTTS brings you the latest in Testing-as-a-Service: Testing software, virtual hardware and expert resources wrapped into one solution.
Whats Involved
Free Hardware, Free Software, Expert Test Engineers
RTTS performs your testing with world-class software in the Microsoft Azure Cloud — and picks up the tab for all hardware & software costs. It is all included in our hourly rates. No more waiting for hardware, managing software licenses, and looking for skilled resources.
Hardware — Free Cloud Environment
RTTS can have a testing environment up and running in a matter of minutes. Our Cloud service eliminates the hassle of either finding available hardware in your organization or having to buy it. And we can test from one geographic area or run tests from throughout the US. And the cost to you is the same – FREE!
Software — Free Solutions from Leading Vendors & Open Source
We provide software solutions for free — for functional test, performance engineering, mobile testing, application security testing, data validation & ETL testing and other solutions – whatever is needed to fulfill the engagement. No more licensing & server hassles for your company to deal with. We will manage the installation, usage and maintenance of your testing tools while we are on the project – FREE!

Resources — RTTS Expert Team Leads & Test Engineers

The RTTS Team Lead, who is an expert in implementing a test process and at automated testing, will handle all issues regarding architecture, test artifacts, interfacing with your technical team, managing our engineers and delivering success.
Our Test Engineers are computer science majors who are skilled in test management, test process and test automation/programming using the industry-leading testing solutions.
Resource Delivery Options
RTTS deploys its services in the Cloud. Our Cloud to reduce cost by cutting out travel and expenses.
How Will RTTS Help My Project?
Project Flexibility
RTTS scales resources up and down according to your project's need
RTTS will provide Pre-Project Assessments and Statements of Work (SOW) write-ups at no cost
RTTS provides our test automation framework, customized for your needs, at no cost
RTTS provides weekly management updates and daily progress reports
Expert skill set
RTTS provides unmatched knowledge, expertise, and intellectual property in the QA marketplace. We are niche providers of IT services, specializing in automated functional testing, performance testing, data testing (Data Warehouse/ETL/Big Data/Data Interfaces/Data Migrations), Business Intelligence (BI) Report testing, Mobile Application testing and security testing. All of our employees are Computer Science graduates from accredited institutions with tool-specific certifications, and all are full-time employees.
Same or similar time zone
American engineers support your team from the Eastern U.S. No time zone issues.

Vertical market experience
RTTS has performed successful testing engagements at 700+ different companies in virtually every vertical market space. Our client list speaks for itself.
Training Support
Our certified trainers can educate your staff if you decide to bring the testing function back in-house.

Competitive pricing
Our pricing model is an attractive alternative, due to the productivity of our highly skilled Automated Testers.

Types of Testing Supported
Why look elsewhere when RTTS provides excellent quality at competitive prices?